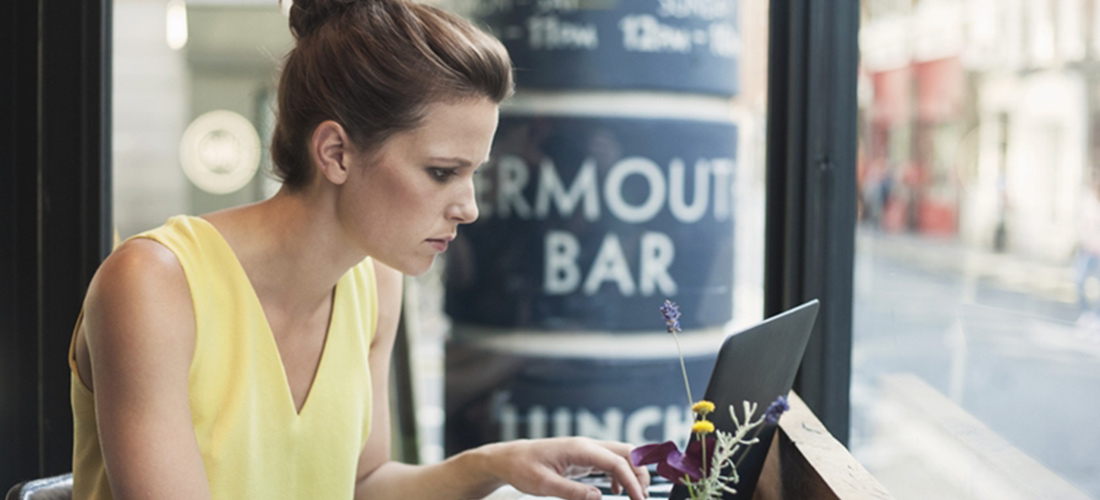 *This blog has been updated from its original publishing to ensure accuracy.*
Let's face it: Gone are the days of going into the office to access company information. The concept of remote work has pervaded organizations around the globe, and employees are becoming productive whether they are in the office or on the go.
However, this "work from anywhere" reality is forcing organizations to surface information to their users in real time, with the ability to immediately respond to requests and secure sensitive content. That being said, the question then is: "Why should organizations and consumers choose to use Microsoft OneDrive over Dropbox, Google Drive, or Box?"
Well, there are a few obvious reasons that compel organizations to gravitate towards OneDrive:
Seamless integration into Office 365
Can preview hundreds of file types without installing the application used to create the file
97 supported languages in Office Online
offers 5 GB of personal storage space free of charge, with 100 GB, 1 TB, and 6 TB personal/family storage options available
offers 1TB per business user storage space plans
Files are protected in transit using transport layer security (TLS) encryption
Each file is encrypted at rest with a unique AES256 key. These unique keys are encrypted with a set of master keys that are stored in Azure Key Vault.
Offers Personal Vault as a protected area in OneDrive that requires a strong authentication method or a second step identity verification
But for the power users and organizations that demand a comprehensive cloud storage and file syncing tool, what are the real benefits of using OneDrive? After all, there should be more benefits than just an easy-to-use interface and central cloud storage.
Here are the top five benefits that organizations can anticipate when using OneDrive.
Benefit #1: Availability
OneDrive is always on.
Rest assured that users can always access content stored on OneDrive. In fact, Microsoft has been providing at least a 99.97% up-time since 2015.
(Fig. 1: Office 365 uptime stats)
The stats from Q4, 2017 to present are available here.
| | | | | |
| --- | --- | --- | --- | --- |
| Year | Q1 | Q2 | Q3 | Q4 |
| 2020 | 99.98% | 99.99% | 99.97% | 99.97% |
| 2019 | 99.97% | 99.97% | 99.98% | 99.98% |
| 2018 | 99.99% | 99.98% | 99.97% | 99.98% |
| 2017 | 99.99% | 99.97% | 99.98% | 99.99% |
| 2016 | 99.98% | 99.98% | 99.99% | 99.99% |
| 2015 | | | | 99.98% |
Why is uptime crucial? And more importantly, how does Microsoft achieve this incredible statistic?
Let's take a step back and break down what cloud storage really is:
The cloud is essentially hardware with external connectivity—be it public (internet) or private (VPN).
Data centers house storage hardware where organizations can take advantage of infrastructure, software, and platforms "as a service."
Uptime can be defined as the continuous availability of a platform. At a minimum of 99.97% uptime, potential downtime is limited to about 0.0002% of cloud dependency per year. That equals 105.2 minutes per year or 25.9 seconds per day.
In addition, Microsoft has fault tolerance built into their data centers, as well as failover to other Availability Zones. What this means is that if one data center should go down, another data center will become the primary node. Microsoft manages this level of uptime through its redundancy across geographically separate data centers. Data is mirrored into at least two different Azure regions, which are at least several hundred miles away from each other, allowing Microsoft to mitigate the impact of a natural disaster or loss within a region.
More information on service health and continuity can be found here and here.
Benefit #2: Accessibility
Not only does the OneDrive sync client automatically sync any changes immediately after detecting an internet connection, but users can also pause syncing should they be accessing their OneDrive across a metered or tethered connection so that they are able to save on bandwidth costs.
With Microsoft data centers being spread across the globe, this makes OneDrive the only cloud storage platform that is locally available on each continent on the planet.
This is especially useful to International companies. With the Multi-Geo Capabilities in OneDrive, organizations can store localized OneDrive content in the region through a single tenant. Now, organizations can meet the data residency requirements per geolocation, as the data is created and hosted.
What's more, the OneDrive sync client is available on Windows, Mac, iOS, Android, Windows Phone, and Xbox.
Extended sharing capabilities in OneDrive
Both online and localized versions of OneDrive (through the sync client) have extended sharing capabilities. Users can share content at a folder or file level with people inside and outside of their organization, as well as with anonymous users, simply by right-clicking on the content and selecting the "Share" option.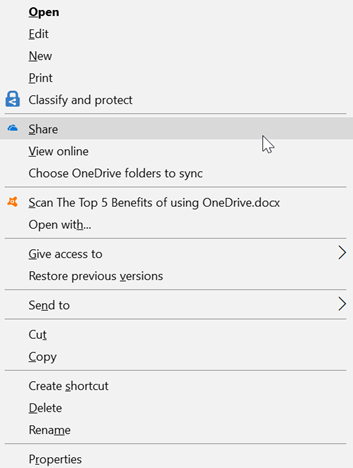 (Fig. 2: Desktop view for sharing)
Once the "Share" option is selected, users have the option to choose either users who they want to share with or copy the link and email it to users for direct access.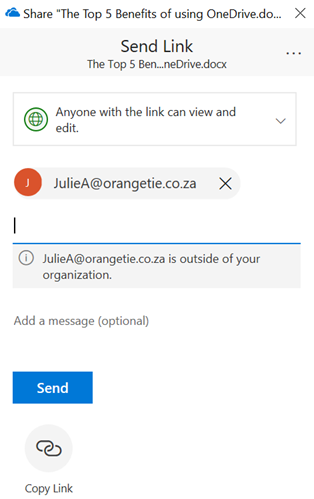 (Fig. 3: Desktop view for access)
For further insight into how to share files on OneDrive, check out OneDrive file Sharing: The ins and outs of sharing files in OneDrive online.
Benefit #3: Security
Being able to effortlessly share content entails ensuring that the content is not accidentally shared with the wrong people. However, before organizations start worrying whether their sensitive content is at risk, they should know that Microsoft has provided IT administrators with various levels of sharing capabilities through the OneDrive Admin Center.
These come in the following forms: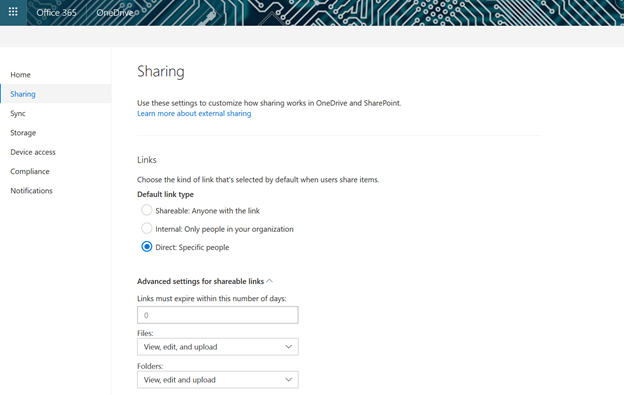 (Figure 4. OneDrive sharing options)
Administrators can set various levels of sharing based on what they deem is viable for the organization. Also, they can enforce link expirations, so users consume content within an allotted period of time.
Additionally, administrators can select the permissions that users are allowed to give others that they share content with. As many users will want to share content with people who are not part of their organization, an External Sharing option is also available.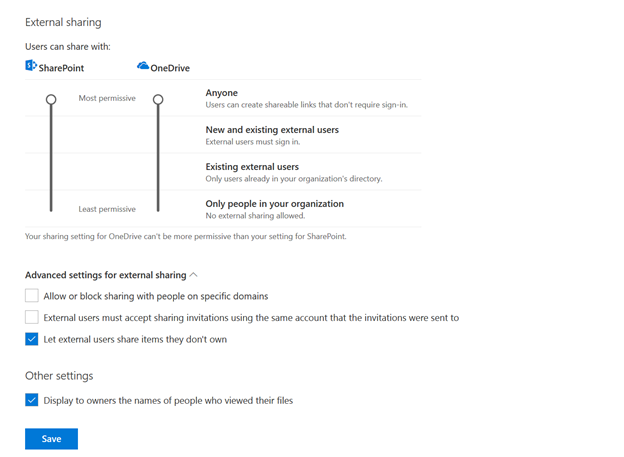 (Fig. 5: External Sharing)
With four levels of external sharing, organizations can now have complete control of how users share content stored in both OneDrive and SharePoint. Other options include Device Access, as well as pulling in compliance processes from the Security and Compliance Center through the use of DLP, Retention, and eDiscovery.
If organizations are not satisfied with that level of security, administrators can explore the options available through Azure's Information Protection portal, where administrators can configure Office document policies that encapsulate Rights Management features, such as content lock down, where users are unable to copy, forward, and snip content out of the shared document.
Benefit #4: Offline work
The primary purpose behind having a client for cloud storage is so that users can work with content locally.
With the OneDrive sync client, users are able to download content to their local workstations and work with content without having to remain connected to the internet. This is especially effective when traveling or when users do not have consistent access to the internet.
When a user connects to the internet, documents are automatically synced back to OneDrive storage in the cloud. This is not necessarily unique to other cloud storage applications, like Dropbox and Box, but the OneDrive sync client does have a feature that sets it apart from the rest:
Microsoft Office integration
With the combination of Office 2016 and OneDrive, users can share files directly from Office 2016 applications, which also includes Microsoft Visio.
With this feature, users don't have to navigate away from the digital asset they're working with. This effectively improves the collaborative ecosystem, as users can simultaneously work on a document and request the team to provide insights, comments, and suggestions.
Added to that, users can see who the document is shared with, as well as any activity that is linked to the document—right inside the Office client.
Benefit #5: Files On-Demand syncing
This feature is great for users who work on multiple devices. (So, pretty much everyone.)
Now, users don't have to sync entire OneDrive structures; instead, they can simply select which files are made available on certain devices. Considering that storage on mobile phones and tablets comes at a cost and is generally not expandable, users have the freedom to sync documents that they want to take with them across all of their devices.
However, File On-Demand is not enabled by default, so users have to navigate to their settings to enable it.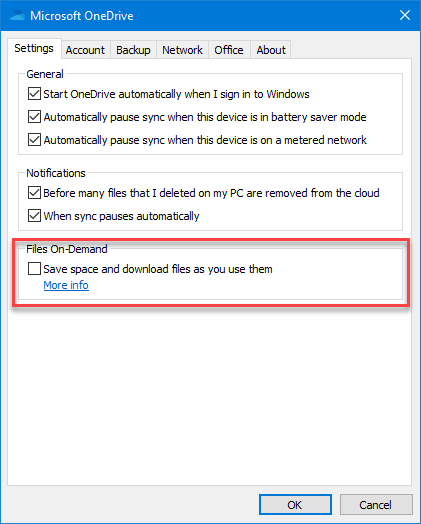 (Fig. 6: Enabling Files On-Demand)
Once enabled, users will have 3 new options available:
Online-only files: These will always be visible in File Explorer and only downloads to your device when you open it. Note: Users will have to be connected to the internet to open the file.
Locally available files: These are opened as online-only files. However, the difference is that users do not need internet access to open the file, as it is cached locally.
Always available files: These are selected to be available on a specific device. It will always be available, even when users are offline.
Here are a few points of consideration when working with Files On-Demand:
When deleting an online-only file from a device, it also deletes the file from OneDrive and moves it to the Recycle Bin. Users have 30 days to restore the file before it is permanently deleted.
Online-only files will be available through the desktop search, but users will be unable to search for content inside the file, as the contents are not indexed.
Moving online-only files inside of the OneDrive folder does not impact the state of the file—it will remain online-only. If users move it out of their OneDrive folder, it will download to the selected folder on the device.
Conclusion
Microsoft has come a long way since groove.exe. OneDrive is finally an enterprise-grade product and has become a trusted platform for working with, sharing and storing content with confidence. Organizations can now manage content that users create and collaborate on, and users can now work with content that is properly secured. All in all, OneDrive is by far the easiest, best secured, and most integrated personal storage product available in the market right now.
For more insight into using OneDrive, check out our other posts:
How to use OneDrive: Managing key features and limitations
Understanding OneDrive storage plans, capacity and key limitations
OneDrive file sharing: The ins and outs of sharing files in OneDrive Online
Understanding how OneDrive Sync works and how to sync your files
The top 12 features to look for in a OneDrive migration tool