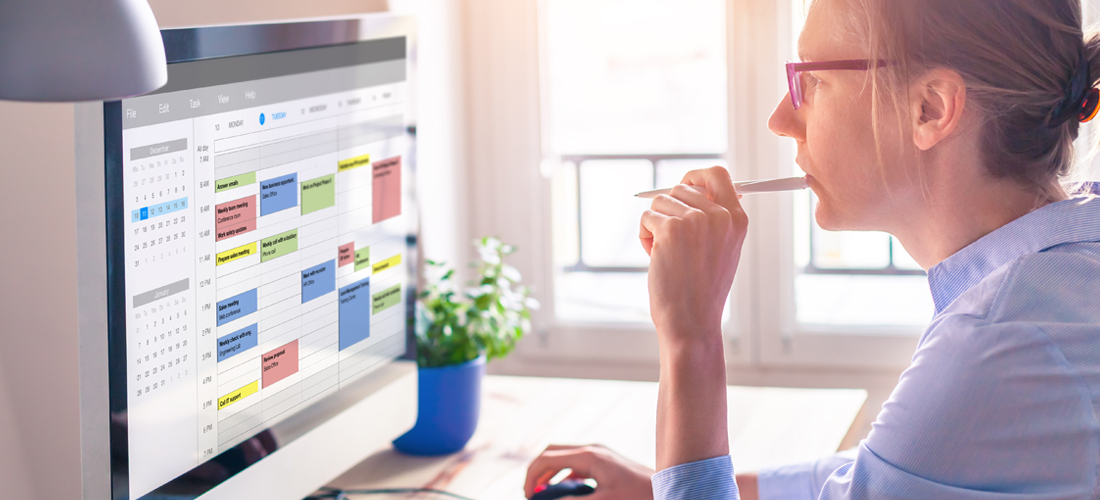 One of the key staples of group collaboration is using shared calendaring functionality. Today we will explore the first incarnation of Microsoft Teams shared calendar functionality with the release of the Microsoft Teams Channel Calendar app. This blog will discuss what it is, how to use it, and some of its current limitations.
The case for group calendaring
Working together on a project or as a team with a common purpose often requires a place where team members can see important dates for events, milestones, and deadlines related to the groups work.
life examples
Real-life examples include a vacation calendar for a group of people, upcoming industry conferences of interest to a team of people, a recurring meeting for a project, or daily *standup meetings* for agile teams.
Let me start by providing a little background around group calendaring before we dive into the Microsoft Teams shared calendar functionality. A Microsoft team is backed by an Office 365 Group, which contains an Exchange Online Group Mailbox and an associated calendar. However, until recently, that group calendar could not easily be used directly inside of the Microsoft Teams client. Teams of people with group calendaring needs were left scrambling to use a variety of workarounds that were cumbersome at best, such as leveraging the group calendar in Outlook Web Access, or integrating a SharePoint Webpart into the Microsoft Team as a website tab. For several years, the lack of a first-class Microsoft Teams shared calendar option was a top Microsoft Teams UserVoice item requested by the user community.
Enter the Microsoft Teams Channel Calendar app
To address this need, Microsoft is evolving the calendar capabilities available in the Teams client, and has recently released a Teams Channel Calendar App. This app can be installed in a standard Teams channel, and appears as a tab in the team, just as the default "Posts" and "Files" do.
In this screenshot, we can see the channel calendar in the Teams App Store when a team member adds a tab to a channel.

The Microsoft Teams shared calendar is available to all members of the team, except guests. Any team member can create calendar events or meetings in the channel calendar, and it will automatically show up for other team members. The calendar is a filtered view of the underlying Exchange Online mailbox calendar associated with the Microsoft 365 Group. Users outside of the team, including guests who are not part of the team, can be invited to any calendar event or meeting. All attendees in the channel meeting will receive the associated meeting invitation. Whether they can join the meeting is governed by the usual Teams meeting controls (administrative policies and meeting configuration). You can reference my previous post for more information on Microsoft Teams security configurations and best practices.
The organizer of the meeting is the team member who created the channel calendar event, and the meeting invite appears from the team name.
Despite the massive adoption of Teams, end-users still spend a fair amount of time in Outlook, and typically use it for their day-to-day calendaring management. This begs the question; can users see the channel calendar entries from the Outlook client?
The answer is 'yes', with a couple of caveats. First, if a user has been invited to a channel calendar event, and accepts the associated meeting invite, that calendar item will be added to their personal Outlook calendar. To see the channel calendar in its entirety however, Powershell must be used to make the associated Microsoft 365 group calendar visible in the Exchange Address Book (it is hidden by default). This needs to be done on each Microsoft team that hosts one or more channel calendars. The Set-UnifiedGroup cmdlet can be used with the "HiddenFromExchangeClientsEnable:$False" parameter, to make it visible to both the desktop and web versions of Outlook. Once this is done, the user can then choose to make this calendar visible in Outlook.
In this sample screenshot, we can see the "X1050 Launch Team" calendar in one of the team members Outlook web calendar, along with a daily channel meeting called "Daily Regulatory Sync-Up" which was created in the channel calendar.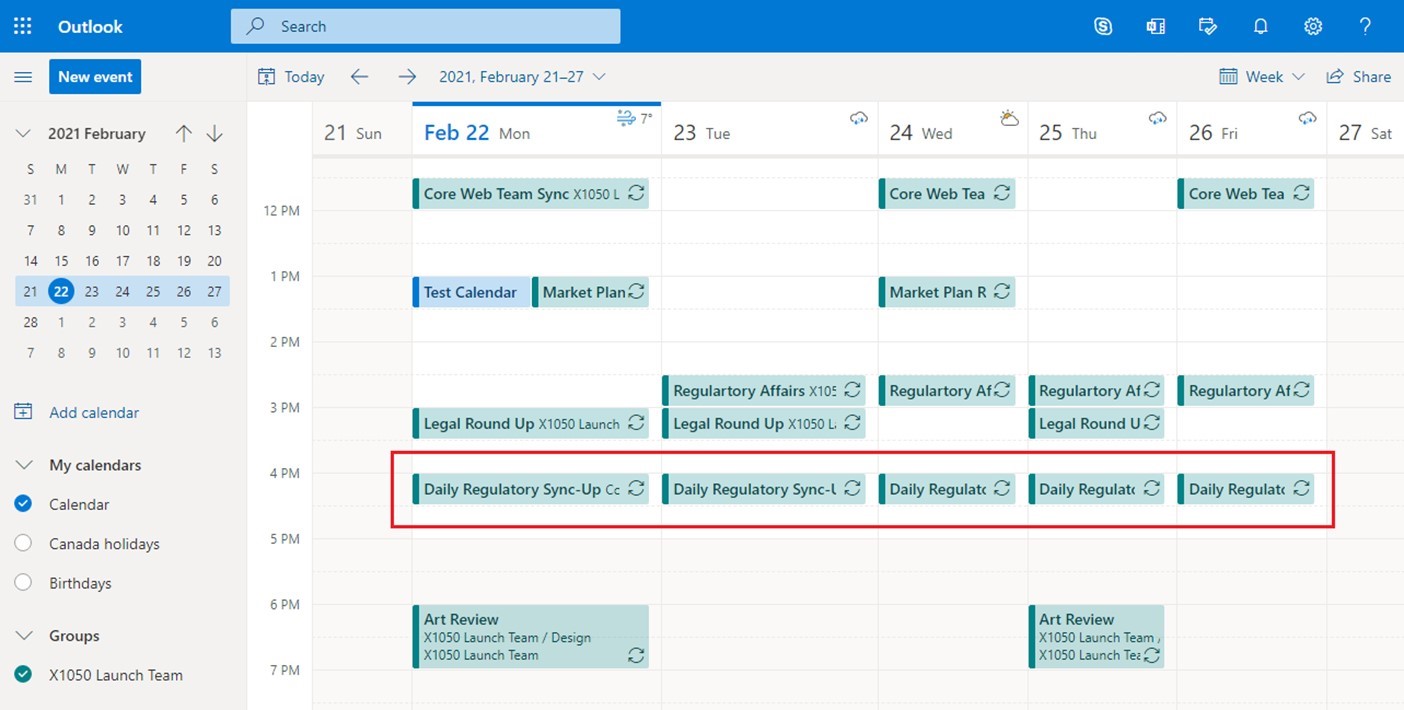 It is worth noting, that while Outlook can view the channel calendar, it cannot write calendar entries to it. It is currently read-only.
Another experience to be aware of is guests (people outside of your organization) who are a member of a team and may have guest access but cannot view the contents of a channel calendar or create a meeting.  As previously mentioned, team guests can be invited to such meetings and can join them, but do not have access to the channel calendar. They will experience a "Your exchange calendar isn't set up" message as shown here: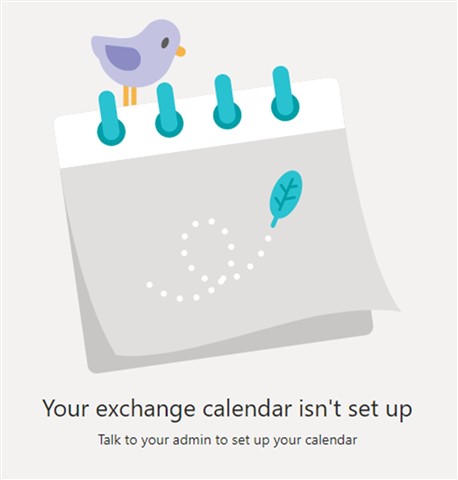 This will also be the same experience for an internal team member who might not be licensed for Exchange Online – as is the case if that user only has a Teams Exploratory license.
Challenges and more to come for Microsoft Teams Shared Calendar
Although Microsoft has taken a stab at offering a Teams shared calendar option, the Channel Calendar app today has limitations. In addition to the view-only limitation in Outlook, one common complaint is that any entry in this calendar is created as a Teams meeting. This causes some confusion, including meeting invitations and channel notifications being sent to all team members. For scenarios such as tracking the vacation and time-off of team members, this is not a desirable experience. Creating all-day events can help avoid some of the confusion, but they will still appear and behave as Teams meetings. Another common complaint is that there is currently no monthly view (just day, week, and work week), as is the limitation that channel calendars cannot be added to private channels.
Despite these limitations, the Channel Calendar app is a good first step to fulfilling the many facets of "group-based calendaring".  As described in the "Include Office 365 group calendar in Teams" Microsoft Teams UserVoice item, Microsoft is still "Working On It", and I believe we can expect more features and capabilities coming soon under the umbrella of a Microsoft Teams shared calendar.
For more insight into using key features and functionality of Microsoft Teams, check out our post: How to Use Microsoft Teams: Putting the Team Back in Team Work.
Protect Microsoft Teams and SharePoint with Azure Sentinel against cyber security threats
Watch On-Demand