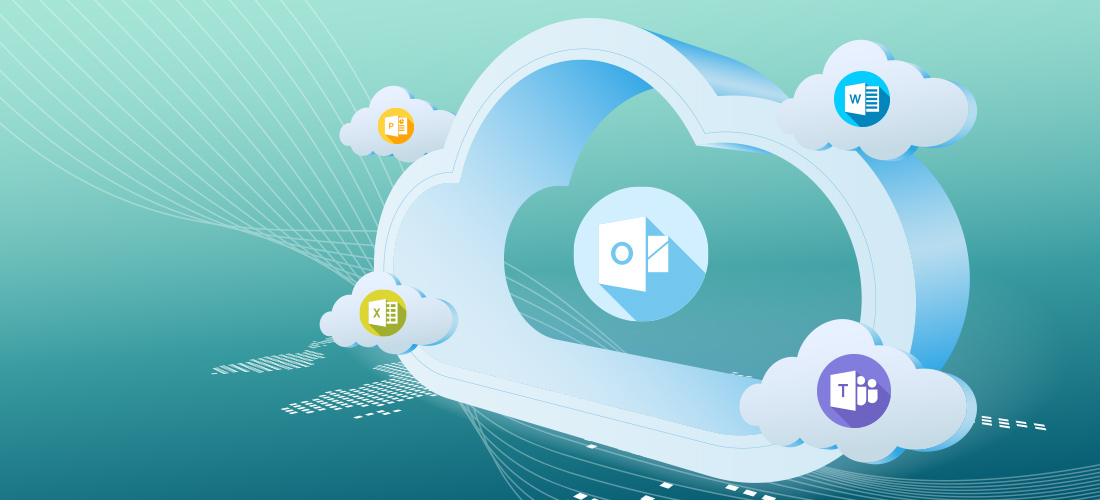 Whether you operate on-premises Exchange or a cloud platform such as Google Workspace, there are multiple benefits of migrating to Office 365/Microsoft 365.
Before we dive in, let's address naming conventions.
Office 365 has rebranded to Microsoft 365 for most plans, but the E3 and E5 licenses remain under the Office 365 banner. In short, small and medium-sized organizations use M365 while larger enterprises use O365 (although O365 can still form part of advanced M365 tenants). If that's left you scratching your head, check out this detailed breakdown comparing Office 365 vs. Microsoft 365.
Anyhow, Microsoft's cloud service (whatever you call it) is now used by over one million companies and adoption continues to grow, with FY22 Q2 Earnings stating: "Office 365 Commercial revenue growth of 19%."
The post-pandemic shift to remote work has prompted slow adopters to finally embrace the cloud, and the major benefits of migrating to Office 365/Microsoft 365 can be broken down into three categories:
End-user productivity
Security and compliance
Scalability and cost-efficiency
Let's take a closer look at each of these areas.
Microsoft 365/Office 365 benefits for end-users
Improved communication via Microsoft Teams is often cited as a driving force for Office 365/Microsoft 365 adoption, and enhanced collaboration is certainly one of the key advantages of using a cloud-based Office suite.
Essentially, Teams becomes your workplace communication tool – a central hub for meetings and messaging, typically reducing internal email flow. The Google alternative comprises two platforms – Meet and Chat – whereas Teams offers a single interface.
Slack has also been a big player in this space for a number of years, but Slack-to-Teams migrations are now growing in popularity as organizations look to centralize data and maximize cloud investments.
Of all the Office 365 benefits for end-users, productivity is surely the most hyped, so we won't labor the point too much but, ultimately, cloud connectivity empowers:
Naturally, the productivity benefits of collaborative tools in Office 365 also result in streamlined IT operations; updates are automatic, compatibility issues are eliminated and the service is essentially maintenance-free. Microsoft does the heavy lifting to keep your SaaS in shape, removing manual tasks so administrators can focus on more critical responsibilities, such as monitoring security.
Security benefits of migrating to Office 365/Microsoft 365
In recent years, there have been numerous high-profile incidents targeting on-premises Exchange, causing major disruption and costing huge sums to resolve. Hackers are exploiting vulnerabilities on an unprecedented scale, as evidenced by the notorious HAFNIUM breach and subsequent supply chain ransomware attacks.
Being prudent with security patching is essential for on-premises management, but the sad reality is many organizations fail to react when updates are released. Despite Microsoft issuing cumulative patches in the wake of HAFNIUM, a sample scan of 100,000 servers found 30% remained unpatched five months later – a shocking figure that highlights how easily bad actors can prey on incompetence.
While cloud security presents its own challenges with cybercriminals constantly trying to break in, one of the primary benefits of migrating to Office 365/Microsoft 365 is patches are automatically deployed, ensuring your network is primed against threat vectors as they emerge – sparing the blushes of careless admins who may otherwise get caught out.
The nature of the beast means security will always be a concern, but the Microsoft cloud offers relative safety in the form of:
On the issue of compliance, the cybersecurity risks of PST files are well-documented and it's practically impossible to comply with data privacy regulations such as GDPR and CPRA if you have them in your environment. However, one of the major Office 365 perks is virtually unlimited mailbox storage, which negates the need for users to create PSTs to save email content on personal drives.
When considering the benefits of migrating to Office 365/Microsoft 365, the opportunity to upgrade PST data should not be overlooked. Centralizing these files enables compliance management, lowers the risk of security breaches and removes a huge burden from admins who often face calls to fix corrupt data. As such, it's highly recommended to locate and migrate PST files as part of your move to the cloud.
Business benefits of cloud migration
While the potential for improved productivity and security may be compelling, budgetary constraints can delay digital transformations. However, many organizations may have fallen into a 'sunk cost fallacy' – believing they need to stick with on-premises infrastructure because they've already invested heavily, even though moving could ultimately save money.
Various reports suggest the Microsoft 365/Office 365 ROI is comparably favorable, with a Forrester Total Economic Impact study advising a 135% return within three years.
When calculating the business benefits of cloud migration, it's important to factor in:
On the topic of archive centralization, migrating to Office 365 presents a chance to unify data governance best practices by transforming journaled data into a cloud-friendly model.
The need for complete, immutable email records pre-dated Exchange storage capabilities, so content was typically offloaded to a journal repository. However, as Exchange Online offers in-place storage, it's no longer necessary to maintain third-party journaling.
As such, moving to Exchange Online is the perfect time to convert journal archives into the modern, in-place format. The transformation process identifies the senders and recipients of each message, and places copies into a hidden portion of all associated mailboxes – effectively putting the data back where it belongs.
Ultimately, a journal archive migration can simplify eDiscovery and compliance while maximizing ROI, allowing you to retire legacy journaling in favor of cloud storage you're already paying for.
So, what are the benefits of Office 365/Microsoft 365?
We've examined many benefits of migrating to Office 365/Microsoft 365, but in truth, we're only scratching the surface.
As Microsoft paves the way for organizations to retire Exchange servers, there's no doubt cloud adoption will continue to grow, and with the potential to empower flexible working, improve security and ultimately boost your bottom line, it's clear to see why.
Furthermore, Microsoft has pledged to be carbon negative and zero waste by 2030, and to remove all carbon it has ever emitted by 2050. These 'moonshot' objectives are incredibly ambitious, but such public commitments toward sustainability can only be commended, and meaningful progress has already been made.
If your Corporate Social Responsibility (CSR) goals align, highlighting these as key benefits of migrating to Office 365/Microsoft 365 could help convince your leadership team to approve the move.
If you're about to embark on your cloud migration, here are some useful resources to help you on your way:
Office 365 and email migration: Nine lessons learned
Get the lowdown from those who've been there, done that, and bought the t-shirt. See how others managed their move, with words of wisdom on steps to take and pitfalls to avoid.
Download Now