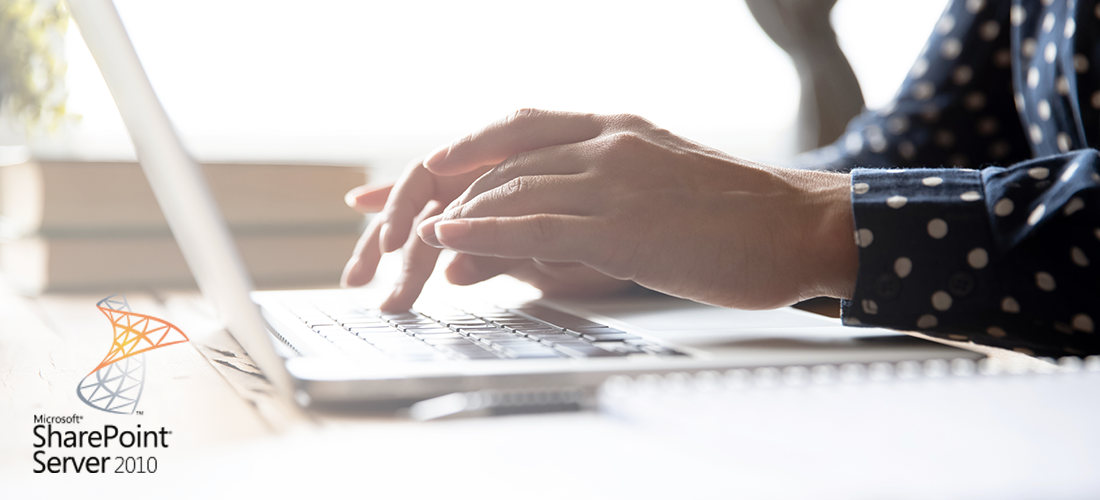 Can you believe that SharePoint 2010 has been around for more than 10 years? It was an epic release with incredible features for its time, including:
An updated ribbon that matched the Office 2007 ribbon for a more consistent user experience
Improved support across different web browsers
An integrated managed metadata service for improved taxonomy, yielding better search relevancy and navigation
Higher thresholds and limits for content, sites and lists
Integrated Office web applications, which led to Microsoft Office 365 with online versions of Word, PowerPoint, Excel and OneNote
Addition of Excel Services, leading to Power BI for high-level analytics and handling of huge amounts of data
These features laid the foundation of what was to come in future SharePoint releases. In fact, we take a lot of these features for granted now.
However, as with many great product releases, SharePoint 2010  has reached the end of its product life cycle. Here are the answers to common questions about the SharePoint 2010 end of life (EOL) and how to migrate to a supported version of SharePoint.
When is SharePoint 2010 end of life?
Mainstream support for SharePoint 2010 Support Pack 2 ended on October 13, 2015.
The end date for extended support is April 13, 2021 (Microsoft recently revised the date from October 13, 2020).
What are the risks of running SharePoint 2010 after its end of life?
Security risks
During the extended support period, Microsoft products receive no critical updates; only security updates are provided.
When the extended support period ends on April 13, 2021, no security updates will be developed or released for SharePoint Server 2010. Your organization is responsible for managing the security issues that appear thereafter.
In addition, the operating systems that support SharePoint Server 2010 are reaching or have reached their end of support as well. Your organization is responsible for managing the security issues with those operating systems. (Microsoft offers a handy search function for checking EOL dates for their products.)
Compliance risks
Both virtualized and physical instances of SharePoint Server 2010 are vulnerable and will not pass compliance audits. Note that this is true even if you're running SharePoint Server 2010 on an Azure virtual machine. (Similarly, running an unsupported operating system like Windows Server 2008 in Azure does not mean the OS is now supported or compliant.)
Compliance failures can subject your organization to steep fines, reputation damage and other consequences.
Financial risks
To try to patch the security gaps, your organization might need to deploy intrusion detection systems, more advanced firewalls, network segmentation and other security measures to isolate the legacy server operating systems and SharePoint Server 2010.
What are my SharePoint 2010 upgrade options?
Organizations that are still using SharePoint 2010 have four options:
Stay on SharePoint 2010 indefinitely. You'll have to accept the risk that your organization has zero support if anything goes wrong.
Migrate to SharePoint 2013 or 2016. Keep in mind that you will have be facing the same situation again in a few years. Microsoft has published the following EOL dates for these products:
Migrate to SharePoint 2019. This is the best option if you must keep your content on-premises.
Migrate to SharePoint Online. This is the best option if you can move your content online.
What factors should be considered when migrating to SharePoint Online?
HTML, CSS and Javascript cannot be migrated to SharePoint Online; they are simply not supported.
A customized user interface developed on SharePoint 2010 cannot be migrated as-is to SharePoint Online, since many customizations are unsupported. In particular, custom web parts will need to be replaced.
If you want to modernize your sites, you will also need to replace your out-of-the-box SharePoint 2010 web parts with modern web parts.
If you plan to modernize and use hubs, you will need to flatten your site structure from what is likely a very hierarchical structure.
How can I get the most out of my migration to SharePoint 2019 or SharePoint Online?
Take the opportunity to archive legacy SharePoint 2010 content and clean up the remaining content prior to migration. Focus on migrating the content that has the highest value to the organization.
Remember that SharePoint 2019 and SharePoint Online are rich collaboration platforms! Take advantage of the many new features and capabilities to improve user productivity and enhance business processes. For example, review your current business workflows and consider revising them to take advantage of the new workflow options in SharePoint Online.
What about SharePoint 2010 workflows?
Microsoft announced the end of support for SharePoint 2010 workflows in SharePoint Online:
As of August 1, 2020, SharePoint 2010 workflows were turned off for newly created tenants.
Starting November 1, 2020, Microsoft began to remove the ability to run or create SharePoint 2010 workflows from existing tenants.
SharePoint 2010 workflows cannot be migrated as-is, and SharePoint 2010 workflow histories cannot be migrated, either. As an interim solution, you could migrate your SharePoint 2010 workflows to SharePoint 2013 workflows, since SharePoint 2013 workflows will remain supported on SharePoint Online. However, these workflows are deprecated; Microsoft is not planning to do further software development work on this workflow engine. Also, keep in mind that extended support for SharePoint 2013 ends on April 11, 2023.
Another option is to rewrite your SharePoint 2010 workflows to use Microsoft Power Automate or another supported workflow solution, such as Nintex. This is the recommended approach even if you first upgrade to SharePoint 2013 workflows.
Where can I get help with my SharePoint migration?
Quest offers proven solutions for SharePoint migrations:
Quest also offers Professional Services staffed by experienced experts who can assist with or perform the migration activities.