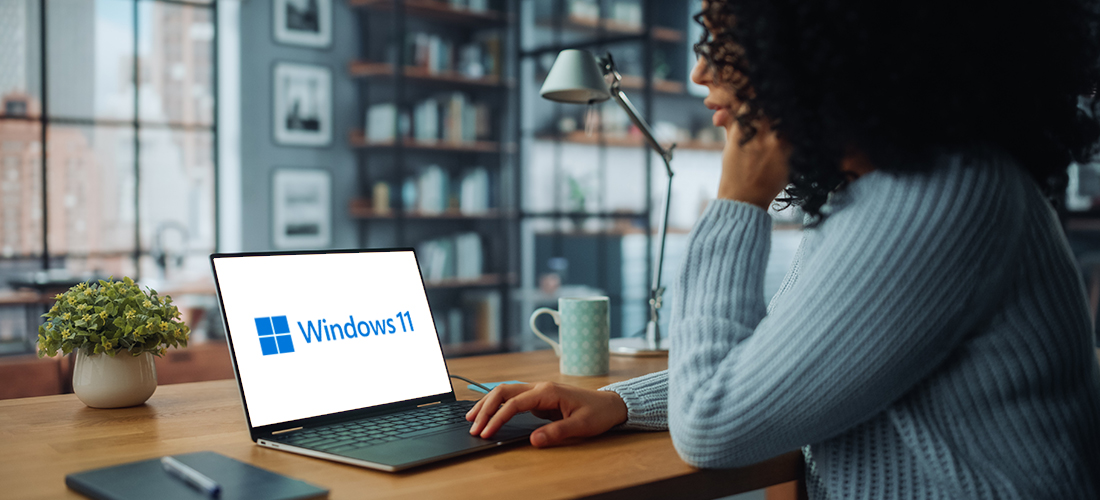 Upgrading to Windows 11 will be a major initiative for many IT departments soon and planning for the rollout should begin right away if it hasn't already. At the end of August, Microsoft announced that Windows 11 would become available on October 5, 2021. Windows 11 will be a free upgrade for Windows 10 users and new PCs will start to become available for purchase with Windows 11 pre-installed. In this post, we will answer some of the common questions that IT departments will face when planning their upgrade to Windows 11.
What's new in Windows 11 for end users?
Actually, there's a lot of new features in Windows 11. I will touch on some key highlights, but you might also want to check out the Microsoft overview and the write-up on the Microsoft blog.
A better user interface with a new start button and taskbar
The biggest change to Windows 11 is in the user interface and there are quite a few enhancements that help to advance the hybrid work experience. For instance, they have moved the Start button and taskbar to be center-aligned along the bottom of your screen instead of being on the left. However, the taskbar can be configured as left-aligned if preferred. If you're using Microsoft 365, the taskbar will also display your recent files to any device you are logged into. Plus, with deeper integration of Microsoft Teams into the operating system, you can now chat, make calls and mute yourself via Teams directly from the taskbar.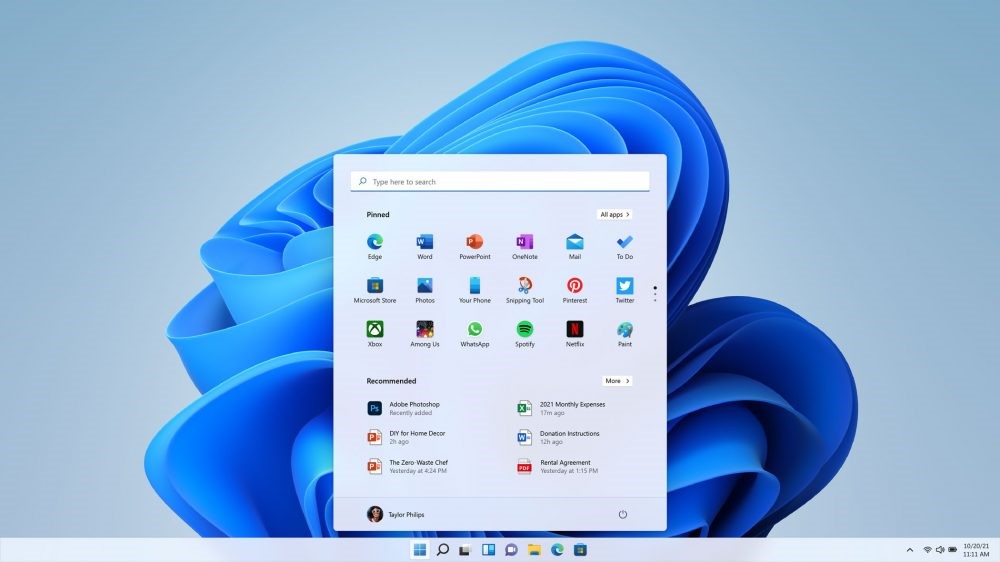 A preview of the new Start button and taskbar in Windows 11.
Better multitasking with Snap Layouts, Snap Groups, and Desktops
Snap Layouts, Snap Groups, and Desktops are all new ways to enhance your multitasking by organizing all the windows you have open. When you have a task, or a set of related tasks, that require you to use multiple applications, the new Snap Layouts feature enables you to apply one of the predefined layouts in Windows 11 to automatically arrange the selected apps on your screen. This creates a Snap Group. Additionally, you can set up multiple Snap Groups for multiple tasks and easily switch between them via the taskbar. Lastly, Desktops take screen organization to another level by enabling you to have multiple virtual desktops each with their own background and apps.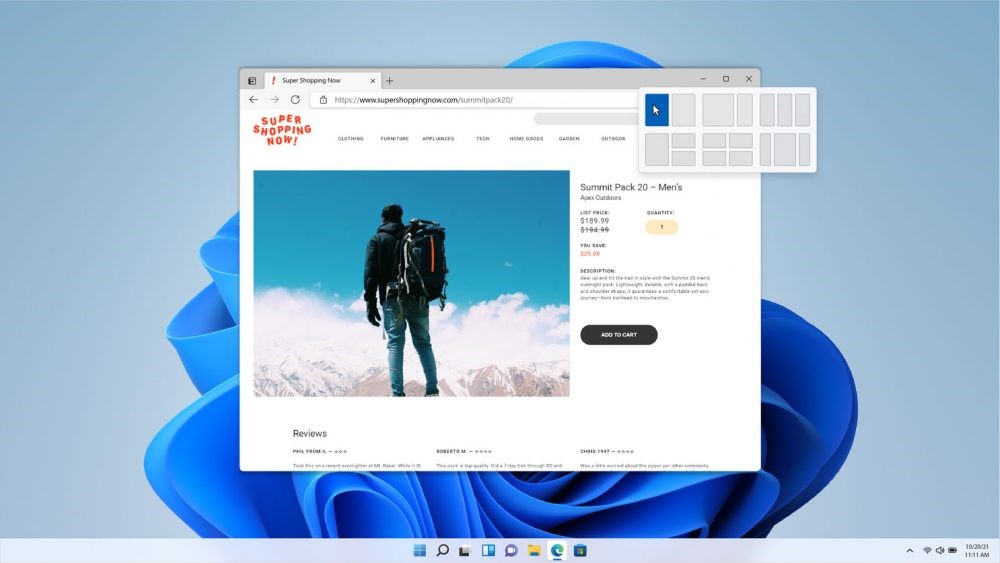 A preview of Snap Layouts in Windows 11.
What's new in Windows 11 for IT pros?
Deployment and management remain the same as with Windows 10
From a management perspective, Windows 11 is built on the same code foundation as Windows 10. Microsoft states that "Windows 11 preserves the application compatibility promise made with Windows 10 and does not require changes to existing support processes or tooling to sustain the currency of applications and devices." That means you can use the same tools for deployment and management that you use now. Whether you have traditional agent-based or modern agentless tools, you will not need to change them.
Microsoft raises the bar on device security
With Windows 11, Microsoft is raising the bar on endpoint security by only allowing Windows 11 to be installed on machines with version 2 of the Trusted Platform Module (TPM) chip. This chip encrypts your PC, and you won't be able to install Windows 11 on a device without that chip. Most PCs sold after 2016 have a TPM chip. For more information, check out this article on Windows Central with directions for using Settings, Device Manager or the Unified Extensible Firmware Interface (UEFI) to determine if your PC supports TPM 2.0. The bottom line is that Windows 11 PCs will be ensured to have a higher level of security.
What's missing in Windows 11?
All the features that Microsoft is deprecating or removing with the advent of Windows 11 are listed in the system requirements. Here's two of the more notable changes.
Internet Explorer will not be included in Windows 11
Internet Explorer (IE) will not be included in Windows 11. You will be able to use the IE mode in Microsoft's Edge browser, but Internet Explorer will be retired, and Microsoft will end support on June 15, 2022. For companies that still have applications that only run in the Internet Explorer and not Edge, now is the time to change them.
Cortana has been booted from the booting experience
One of the most noticeable changes for admins who are accustomed to installing a Windows 10 computer manually is that Cortana will no longer be screaming at you while you are setting up a computer. Currently, if you manually set up a Windows 10 computer, at some point, Cortana will introduce themselves using the speaker of the device. That often startling occurrence, will no longer be the case with Windows 11. Admins everywhere can finally breathe a sigh of relief.
How should IT groups plan to upgrade to Windows 11?
For admin teams, it's a good idea to start checking the compatibility of your devices and start to replace the devices that do not meet the requirements for upgrading to Windows 11. This will help pave the way for a smoother migration. Also, check the compatibility of your software and tools. Like I stated above, if you are still using Internet Explorer, that will present a big problem. They didn't remove it, they just disabled it. So, compatibility and user training should be high priorities right now. To be honest, I don't expect a high percentage of devices that aren't able to run Windows 11, especially if you purchase a device now from one of the bigger vendors.
Check device readiness with automated tools
The good thing is if you have an automated endpoint management tool, you can check almost everything right now. You should be able to run a report that will list or group which of your devices are already compatible for Windows 11.
Check the technical requirements and the Microsoft Health Check app for readiness
Obviously, we recommend that IT takes the lead in upgrading end user devices to Windows 11. However, if you are in IT or a tech-savvy end user, you can check the readiness of your PC by reviewing the full technical requirements on the Microsoft website and by using the Microsoft Health Check app which is now available.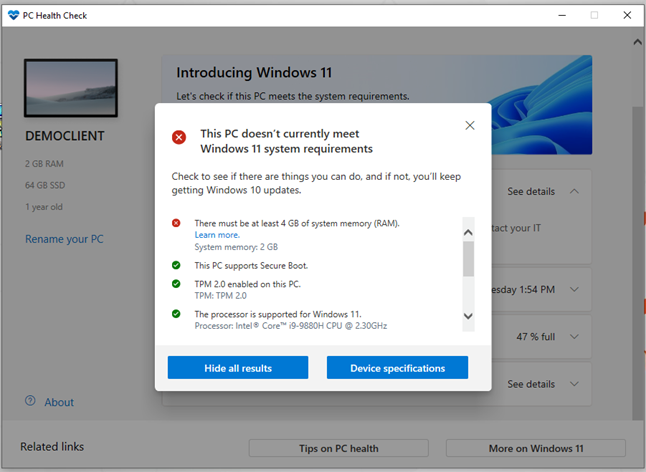 Windows 10 devices can stay on Windows 10
If certain Windows 10 PCs don't meet the Windows 11 requirements, they can stay on Windows 10. Microsoft will continue to provide point releases and security patches for Windows 10 devices. Microsoft has stated that Windows 10 will continue to be supported until at least October 2025. So, you have plenty of time to refresh any Windows 10 devices that are not up to spec.
Plan for the costs of upgrading to Windows 11
You also need to budget for the costs of upgrading to Windows 11. If you have devices using an earlier version of Windows than Windows 10, you will need to pay for the OS upgrade. Also, you might have costs for upgrading or replacing tools or software that are not compatible. Especially, if you have tools that still rely on Internet Explorer. Lastly, you will also need to budget for the internal costs of having technicians to perform the migration. So, the better tools you have, the shorter your migration period will be and the more money you will save on the migration.
How should IT groups test Windows 11?
Every company has different applications and processes and tools. And while we're hopeful that Microsoft is right and no key processes or tools should need to be changed, you still need to set up a lab and test your key processes and tools with Windows 11 devices. You can start testing today with the beta version of Windows 11, and after October 5, with the public release version.
Installing Windows 11 for testing purposes
You can find the code in your Microsoft developer account. And if you don't have a developer account, you can register for a free one. And then you can try out Windows 11 on a virtual machine or on existing hardware which runs Windows 10.
How should we prepare end users for upgrading to Windows 11?
Microsoft is sure to provide some training resources that explain the differences that end-users need to know. They have done that with prior launches, and I expect they will with Windows 11 as well. Beyond the OS changes, IT departments will need to provide training on any tools or processes that may be impacted or changed because of the upgrade. IT departments should also prepare their help desk staff with the resources they will need to quickly handle and resolve any issues or questions end users may have.
Summary
Upgrading to Windows 11 can be done efficiently and cost-effectively with the proper upfront planning and preparation. If you haven't already started these activities, now is definitely the time to get the ball rolling.